Best Alligator Wallet Guide For Men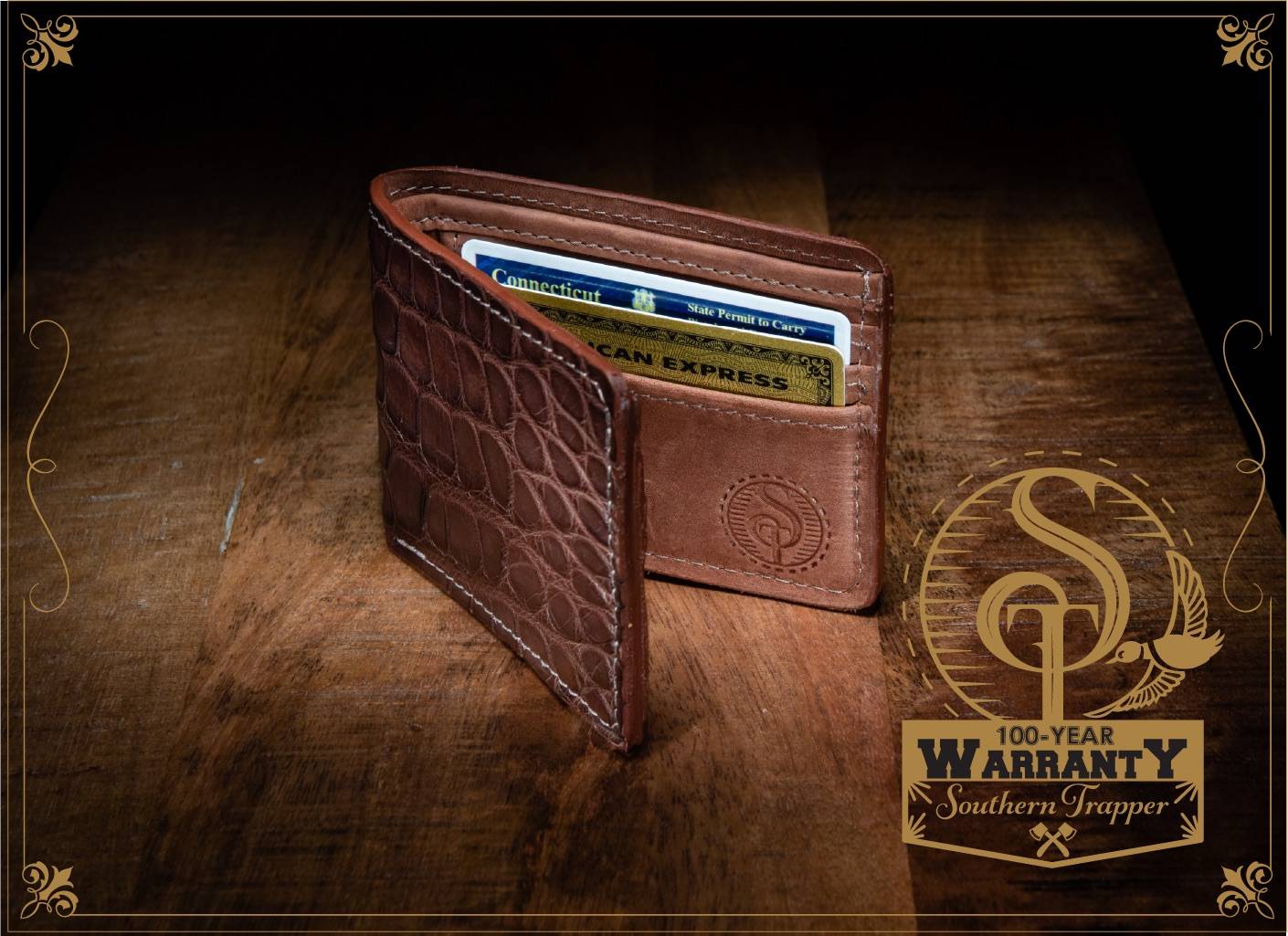 There are many things you should consider while shopping for alligator wallets online. It can be very challenging to find the best alligator wallet, but this guide should help you find the best alligator wallet for men.
How to determine if alligator is real or fake – The easiest way to find out if the alligator leather is real or fake is by reading the product description. Many online websites will describe the alligator wallet as real leather, but buried in the product description it will mention that it's actually alligator "print" or "textured". This should be a red flag.
How to determine the quality of alligator – Alligators grow in all different shapes and sizes and no two are identical. Most shoppers are interested in the symmetrical patterns on the alligator belly, which from a manufacturer standpoint limits each alligator skin to yield only 3 or 4 wallets. To increase the yield and reduce costs, some alligator wallet companies like Yoder Leather will use large alligator skins and will make half belly and half flank wallets. But be careful, if you read their product description they state "Your wallet will have a different grain and scale pattern than the one shown in the picture". They even go as far as saying "there will always be natural imperfections in the skins" on the terms & conditions page.
How to determine the craftsmanship quality – The best way to determine how well the wallet is made is by looking at product reviews and the return policy or warranty. Product reviews will shed light on the good, the bad, and the ugly. You should avoid buying alligator wallets from sellers that don't publish reviews on their website, this means their customers likely don't have very nice things to say, otherwise the seller would proudly showcase their reviews.
What is a good warranty – Alligator wallets are considerably more expensive than traditional cowhide leather wallets and it's important that you are aware of the company's return policy. If the company is confident in their craftsmanship, they will have a product warranty that covers craftsmanship and materials. While Southern Trapper has an unbeatable 100-year warranty, Tom Ford only has a 14-day return policy and will not accept repairs. Yoder Leather does not guarantee a refund if you are unhappy for any reason with your alligator wallet.
Shopping for best price – Alligator skins are very expensive, the good quality skins can cost up to $20 per CENTIMETER! There are only so many ways a manufacturer can cut their costs by using the lowest grade alligator and producing them as quickly as they can. Ultimately it's the end consumer who gets what they pay for.